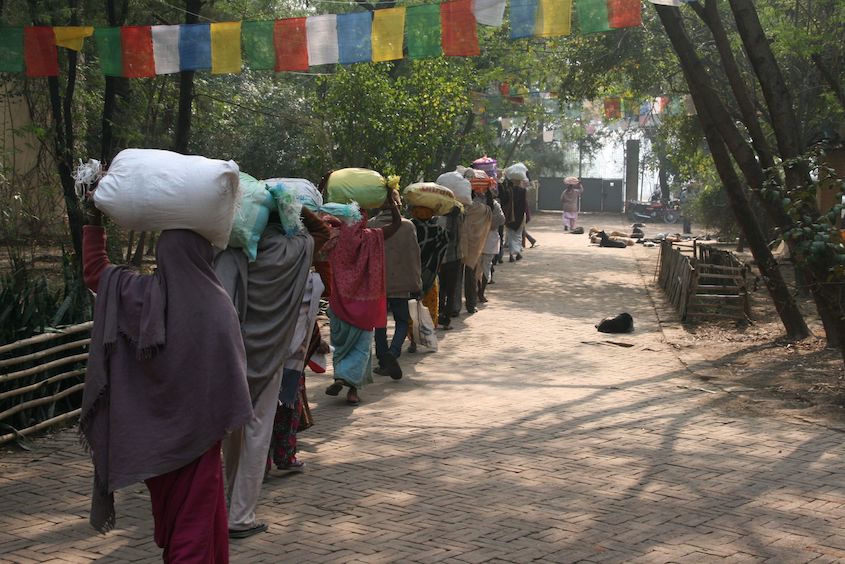 Food distribution at MAITRI
MAITRI Humanitarian Aid program
MAITRI currently provides relief materials in the form of garments and blankets to poorer patients from the various programs, including the village schools.
MAITRI supplies supplements and food to poorer TB patients and malnourished little children.
MAITRI supplies educational material to poorer pupils in its village schools.
MAITRI provides round the clock assistance with antitetanus and antirabies vaccines and atropine injections, which are given free of charge to needy people.
MAITRI provides an Ambulance and Rescue Service for the local population.

Distribution of clothes for pupils of the village schools
MAITRI Humanitarian Aid program: measurable outcomes and impact

Since 1996 MAITRI has provided thousands of pairs of special footwear and eyewear to many disabled leprosy patients.
Since 1997 MAITRI has distributed thousands of blankets, sweaters, saris and dhotis to needy persons.
Since 1999 MAITRI has provided food supplements to many.
MAITRI has provided ambulance service to people who have been saved from sure death from trauma, complicated delivery, tetanus, and other life-threatening conditions.


Distribution of blankets at MAITRI
MAITRI Humanitarian Aid program: the road ahead

With your support many more needy persons from rural areas can continue to receive garments and food.
With your support many more persons from rural areas can receive life-saving assistance.
With your support more people of all ages, who are in dire need of support and currently do not have access to MAITRI's program, will acquire a fundamental right – the right to basic relief services…


Food distribution in the field