MAITRI Primary Education Program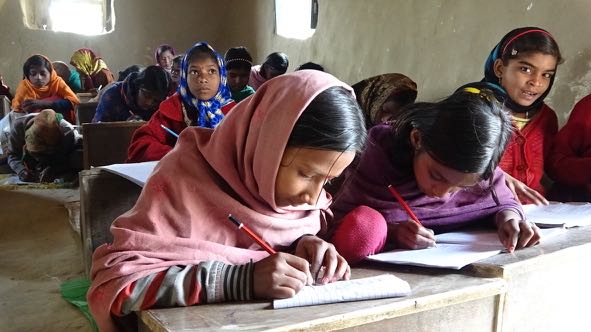 Year 1 students in class at MAITRI's Fulchatar Village School
MAITRI Village Schools program has been running since January, 1999 and is completely free of charge to all pupils.
MAITRI village schools program runs its activity on the basis of an innovative close collaboration between MAITRI and the villagers conceived within the framework of rural development.
The villagers have undertaken to construct and maintain the school buildings whereas MAITRI will provide teachers, educational equipment, materials and guidance where appropriate.
MAITRI provides aid in kind to poorer pupils.
The program is divided into formal and non-formal education up to 6th grade based on the Indian government's curriculum.
The program is conducted through the medium of English and is open to children of all castes and faiths.
No selection procedure is pursued as all children are expected to attend the schools and the.
MAITRI requires that its teachers live at the villages throughout the week and supervision is conducted through MAITRI coordinator.
MAITRI requires that the villagers send their daughters to school while pursuing the attendance of all children from lower castes.
MAITRI primary education program employs local Indian teachers.

Celebration of Republic Day at MAITRI

The craftsman trainer, Giuman Ansari
MAITRI Alternative Education program

MAITRI Adult Literacy program has beem run at MAITRI's premises since 1997 and was extended to Dhandhwa Village school for local women in 2002.
MAITRI Vocational Training program ran at Dhandhwa Village school for local women from February, 2002.
In May, 2006 the program was extended to all four schools of Ramnagar, Fulchatar, Paner, and Dhandhwa.

MAITRI Education program: measurable outcomes and impact

A. MAITRI Primary Education program

MAITRI has 4 village schools to date operating from the villages of Dhandwa, Paner, Fulcharter, and Ramnagar.
The 4 villages chosen are part of clusters of villages, which lie in very remote areas of rural Bihar – two of them are extremely difficult to reach in the rainy season.
Because of the increasing participation of other villages each year, throughout the yearsthe villagers have expanded the school buildings to cater for the pupils of all 6 classes and achieved the goal in 2005.
MAITRI has currently 531 children attending its village schools.


Ramnagar Village

MAITRI has successfully reached its aim of having a pupil ratio of around 50% female, 50 % male.
MAITRI has successfully attracted children from lower castes to attend the schools – both the formal and non formal programs.
Each year the number of pupils attending the schools is approximately the same as more villages are being involved and therefore new children join the schools.
The drop-out rate of pupils in the non-formal education classes is approx 15% due to age limits dictated by social customs.
MAITRI has to date provided aid in kind (books, copybooks, pens, slates, and clothing) to 2,034 needy pupils.
MAITRI provides full free health assistance to poorer children and partial to all of them.
MAITRI has provided doors and windows and small desks in all the schools and basic furniture for its teachers.
MAITRI currently employs 12 teachers and uses the services of one local based educational instructor to ensure quality control in teaching methods.
Since 2001 each school has had a management committee formed from local villagers to look after the buildings, the attendance of children and the MAITRI-village rapport.
At present 32 villages are involved in the schools.


Fulchatar Village

Since 1997 MAITRI has provided basic literacy to 20 men and 25 women.
MAITRI has currently 5 men attending its alternative literacy programme.
From February, 2002 to June, 2008 the vocational training and literacy course was attended by 15 women from the nearby Village of Dhandhwa .
Up to June, 2005 the course was held by a local lady trainer/teacher.
From July, 2005 to August, 2008 MAITRI utilized the services of a trainer with professional skills and experience of the travel-bag making business for Dhandhwa vocational training program.
In May, 2006 MAITRI employed the services of a professional tailor to instruct women as qualified trainer in the school villages with regular classes.
Up to April, 2007 MAITRI had 50 women attending its vocational training program in all four schools.
In May 2008 the course was temporarily suspended due to the lack of a qualified trainer.