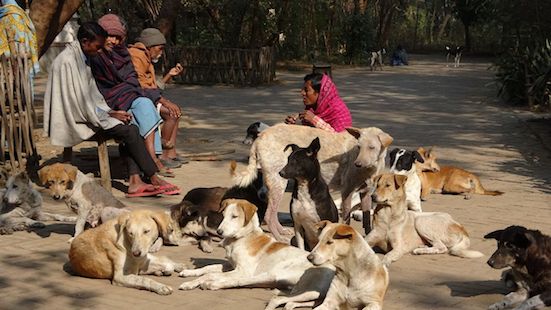 Rescued dogs and in-patients enjoying the sun in winter
MAITRI's Animal Care Program is currently not equipped for home service. If you have an animal that needs care, please contact us to arrange for it to be seen at our outpatient facility.
MAITRI Animal Care Program has been running a Shelter for stray dogs and rescued goats since 1994 .
The rescued animals are treated, vaccinated, and kept at the Centre. Some have been adopted by local families.
The dogs are not confined unless temporarily for health or socialising reasons.
The goats have a secure enclosure (including a quarantine area) and all herbivores are taken outside every afternoon to graze.
Since 2004 a kennel is provided as hospitalization ward for dogs and quarantine for new animals.
A stable has been constructed for the rescued horses.
In 2004 a clinic room was set up and equipped at MAITRI headquarters for day veterinary clinics and surgery.
Since 2003 MAITRI has been running an ABC (animal birth control) program with camps for the stray dogs of the province and routine clinic sterilizations held whenever veterinary surgeons, generally from abroad, are available.

Goats enclosureThe Kennel

Since 2005 MAITRI has been running a Veterinary Care program that provides a veterinary clinic at its headquarters and mobile clinics in villages.
Since 2007 MAITRI has been managing a watering point for cattle and stray dogs built outside its campus.
Since 2004 MAITRI provides assistance to pets from the outside community.
Since 2005 MAITRI has been running a Veterinary Education program on animal welfare and treatment targeting villagers and school children.


The pre-sterilization tent

MAITRI Animal Care program : measurable outcomes and impact

MAITRI looks after dogs, goats, horses, bullocks, rabbits, roosters and several fish.
MAITRI has provided basic veterinary care to small animals through a trained veterinary nurse and occasional volunteer veterinary surgeons.
Privately owned animals are treated, but only street or stray animals have free medicines.
MAITRI has provided treatment and humane advice for hundreds of animals from the local community in its clinic.
MAITRI jeep for mobile clinics for working animals (horses, donkeys, cattle) doubles up as vehicles to collect animals for sterilization.
MAITRI mobile clinics have provided assistance to cows/bullocks/ buffaloes, goats, horses, pigs and other animals.


The clinic for outside pets

MAITRI has carried out the sterilization of many animals at its clinic and in the rural area.
MAITRI has carried out Sterilization Camps for street dogs, during which strays have been sterilized, vaccinated against rabies, and returned to their territories when healed.
MAITRI also provides basic veterinary care for internal parasites and skin diseases so as to remarkably increase the quality of life of the individual stray dogs in a very short time.


The rabbits

MAITRI sterilization program follows strict ethical standards of medical and humane treatment of animals.
Through its field workers MAITRI has carried out veterinary education in thousands of villages, particularly to local farmers.
Since 2003, many international voluntary veterinarians have staffed MAITRI veterinary programs, mainly the ABC camps.


Care of community animals
MAITRI Animal Care program……. the road ahead

MAITRI Shelter shall continue providing a home and basic food and care for dogs, goats, unproductive cattle and horses and other animals which have been brought to MAITRI for care.
MAITRI Shelter for large animals shall be located in an additional stretch of land.
A veterinary assistant will be trained to provide basic veterinary care to large animals.
MAITRI Sterilisation program will continue to reduce the population growth of stray dogs in the community through special camps and routine surgeries.


The animal jeep in front of the camp tents

MAITRI will continue providing basic veterinary care for internal parasites and skin diseases to the individual stray dogs brought to MAITRI's care.
MAITRI will seek the full-time services of a skilled veterinary surgeon so as to provide better assistance to the animal population of the area.
MAITRI will demonstrate owners of working animals the correct way to fit a harness and will supply materials to repair them properly so as to quickly alleviate the suffering of animals.
MAITRI will continue teaching villagers and children to foster a love of animals with an appreciation for their sentient nature and capability of suffering.
MAITRI will train some members of the local community to perform basic veterinary care and education.
MAITRI will build more watering points for cattle and stray dogs in the countryside and shade and watering points for horses at taxi stands.
With your support more animals, who currently do not have access to any form of veterinary care, will have access to a fundamental right – the right to humane treatment and medical care.


The surgery tent

The watering point for the community cattle

Care of disabled animals

The animal graveyard